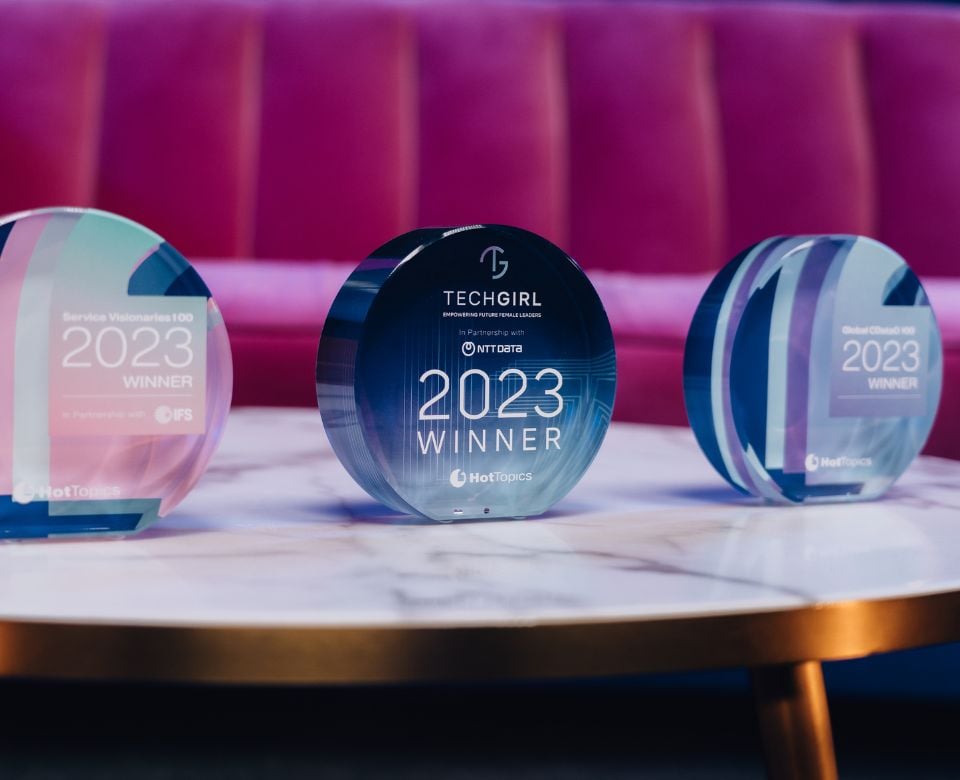 Celebrating Our Extraordinary TechGirl Competition Winners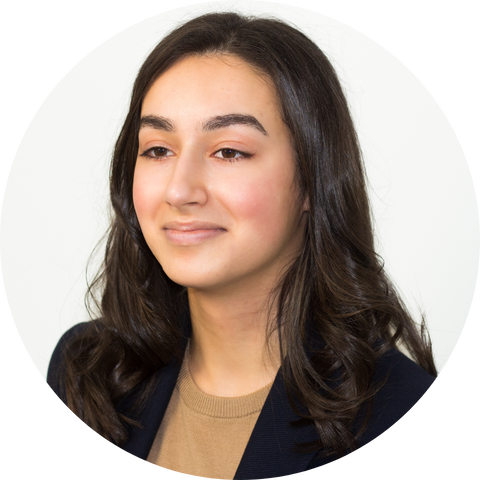 Discover the
TechGirl winners

of
October 2023
HotTopics is delighted to reveal the winners of our bi-annual competition, TechGirl, in partnership with NTT Data Discover their winning entries here.
A biannual competition that seeks to accelerate the imaginations, careers, skills and experiences of girls entering or considering entering the technology sector, TechGirl challenges girls across England to answer the question:
"How can technology be used to improve schools and education in the UK?"
HotTopics announced the TechGirl October 2023 winners in front of a C-suite audience of technology and business leaders from around the world. They received their awards and attended the exclusive Studio event at Abbey Road Studios, where they met their mentors in person for the first time, as part of their prize.
Read on to find out more about their ideas, mentorship, and how HotTopics and our founding partner NTT Data are supporting these rising stars.
[L-R: Georgina Owens, Lydia Glaves, Philip Randerson, Ijeoma Atanmoh, Elizabeth Akorita, DongYeon Kang, Jacqui Lipinski, Iona Lilico, Charlotte Baldwin, Ruby Breadmore, Georgina Lonergan, Miriam Murphy, Eleanor Webb, Natasha Koamen and Bridgid Nzekwu.
TechGirl October 2023:

The winning ideas
Prepare to be inspired by the forward-thinking ideas solutions and ideas that promise to reshape the landscape of educational advancement through technology: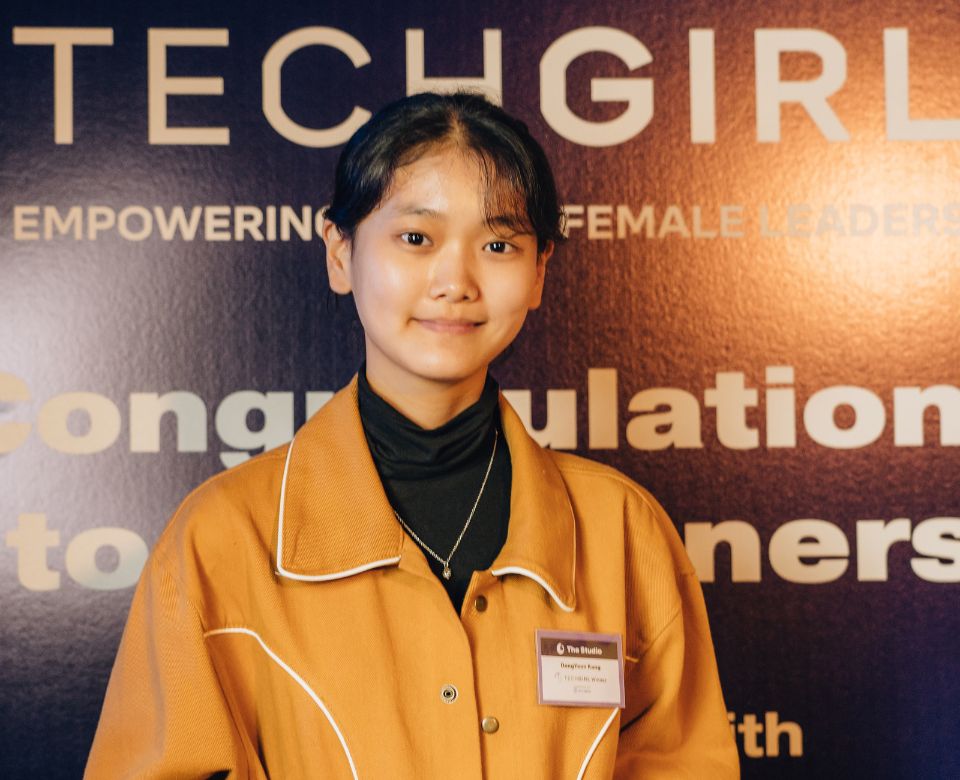 School: Collyer's
Project title:

AI and Automated Learnin
g
DongYeon delivered a comprehensive assessment of AI, automated learning technologies, and the metaverse as opportunities to significantly enhance student engagement. In her own words, DongYeon argued that these technologies can "democratise education by making it more accessible and affordable.
Eleanor Webb
School: RGS Dodderhill
Project title: The Power of Assistive Technology, the problems and a possible solution
For her idea, Eleanor examined the positives and negatives of tools that can help students with disabilities, particularly conditions such as ADHD, and those struggling with certain subjects. Its power comes from using the tools appropriately and with students' voices properly heard, rather than a top-down approach to Britain's education.
Georgina Lonergan
School: Sir William Borlases Grammar School
Project title: Bridging Gaps: Tech-driven Inclusion in STEM Education
Recognising the gap in providing inclusive education for neurodivergent students in STEM, Georgina Lonergan set out to use virtual reality, augmented reality and sensory technologies to help bridge this gap and "personalise learning, enhance comprehension and boost engagement in neurodiverse learners.
Ijeoma Atanmoh
School: Colchester County High School for Girls
Project title: School Match-Making App
In order to make sure the school match-making process is more accurate and unbiased, Ijeoma Atanmoh came up with the idea of creating an app that helps select students and match them with a school without considering any specialties such as locality. Her aim? To upend the traditional school selection process.
Iona Lillico
School: Lichfield Cathedral School
Project title: Mental Health Support App
In a bid to encourage more mental health support in UK schools, Iona Lilico aims to launch an app to help connect with teens and give them the support they need alongside their treatment and therapy.
Lydia Glaves
School: The Dixie Grammar school
Project title: How can we fuse the human body and technology to optimise learning?
In her idea, Lydia Glaves focused on how glucose levels affect the engagement of students in classes, resulting in a lack of focus. In order to cut down this distraction time, Lydia's solution is to create a sensor using an infrared laser that beams through the student's skin, helping them self-regulate their levels at all times and prevent diabetes.
Natalia Hunt
School: Maiden Erlegh School
Project title: A Centralised and Integrated System for Schools
Picking up on the need for better communication and interaction between students and teachers at school, Natalia aims to create a centralised technology system that can be integrated into schools - a place where teachers and students can access different platforms they would need for school with a more friendly user interface.
Natasha Kouamen
School: Cadbury Sixth Form College
Project title: Technology Education for Disabled Students
Passionate about innovation and inspired by her brother's experiences, Natasha Kouamen is on a mission to help create a more just education system, her idea is to implement technology education for disabled students, stating that a more evolved learning experience for disabled students can help them retain the information better.
Ruby Breadmore
School: Longdean school
Project title: Quantum Artificial Intelligence in Education and Learning
Highlighting the need for a better personalised learning curriculum for special needs students, Ruby Breadmore argued that in order to create a better experience and improve attendance rates, teachers need to use a quantum artificial intelligence program to help provide altered work to students, taking all the child's needs into account.
Shiloh Amah
School: Trinity CofE Sixth Form
Project title: Virtual Reality in the Classroom
Shiloh Amah believes that virtual reality is the future of education. Listing the many cases in which this can be applied in schools, she argued that it can be used to supplement department redundancies. Expanding on this, Shiloh said that financial setbacks in schools mean that those in STEM may not have the access to the tools and equipment they need to learn. Virtual reality is the solution for this - simulating an authentic work environment where students can experience and more.
Sumaiyya Afrin
School: CSG
Project title: Personalised Experiences and Education
The one-size-fits-all approach in education is no longer an effective method of learning in this day and age according to Sumaiyyah Afrin. She argued that we should be bolder about personalising education with technology, inspiring teachers and the rest of the education sector to use more innovative methods of teaching and create better courses with this in mind.
Thembi Mahati
School: Harris Academy Sutton
Project title: Assistive Technologies in Schools
Thembi's idea involves encouraging schools to invest in solutions to better personalise learning habits. She believes that assistive technologies in schools will help support students and teachers to deal with the ongoing pressures of the education system, simplifying the learning and teaching process.
The

TechGirl lunch
The winners of the October TechGirl were escorted to the Iconic Abbey Road Studios where we held our flagship event, The Studio. The TechGirls were given an exclusive confidence training session with the renowned journalist and broadcaster Bridgid Nzekwu, discussing the different ways to handle media encounters like live television and radio interviews and how to present themselves in these situations.
After a productive session of confidence training, the TechGirl winners and their mentors were served their very own feast in the privacy of the Studio 1 Lounge, overlooking the ongoing roundtable discussions on stage below. During their lunch, the girls and their mentors discussed their innovative ideas and shared their insights on how technology is changing the landscape.
Our partnership with
NTT Data
In August 2023, HotTopics partnered with global IT services provider NTT Data for our bi-annual TechGirl competition. In joining forces with NTT Data, we have been able to boost the impact of TechGirl, expanding both our global reach and equipping girls with the resources they need to showcase their innovative ideas.
At the October 2023 Technology Leaders Studio event, Miriam Murphy, CEO Europe at NTT Data, attended the roundtable 'TechGirl: Building Tomorrow's Leaders', joined by moderator Bridgid Nzekwu, Georgina Owens, CTO at William Hill, Charlotte Baldwin, CDIO at Costa Coffee, Elizabeth Akorita, Deputy Director Digital Delivery at the Department of Science and Technology, and Jacqui Lipinski, CIO and Director of Digital and Technical Services at the Royal College of Art. Later on, Miriam handed the 12 TechGirl winners their state-of-the-art trophies.
More on
TechGirl
Now is the time to start applying to TechGirl for May 2024.
We are asking girls between the ages of 16 and 18 at schools across the country to submit their creative and innovative ideas on how technology can be used to improve schools and education. After being selected by our judging panel, the best entries will be invited to The Studio at Abbey Road Studios to meet their senior technology mentor and discuss their ideas and kickstart their careers.
Do you have what it takes to become a TechGirl? Enter now and find out.

Join the community
To join the HotTopics Community and gain access to our exclusive content, events and networking opportunities simply fill in the form below.