White-paper:

Navigating the post-pandemic event marketing world


Unlock insights on post-pandemic event marketing from top leaders. Download the white-paper to adapt strategies & thrive in the new era of events.
The post-pandemic world has altered the landscape of event marketing in ways we could never have imagined. As we navigate this new terrain, it's crucial for industry and marketing leaders to join forces, adapt to the changes and capitalise on the unique opportunities that have arisen. Our whitepaper charts the core elements of these opportunities, delving into the insights and strategies needed to excel in this new era of events, featuring invaluable contributions from top marketing professionals, below.
Our comprehensive whitepaper, "Navigating the post-pandemic event marketing world," is the result of an exclusive Food for Thought lunch, hosted by HotTopics and BlueJeans by Verizon, and moderated by HotTopics' Editor, Peter Stojanovic. With contributions from esteemed marketing leaders across various industries, this whitepaper sheds light on the challenges, trends and innovations shaping the future of event marketing.
Marketing leaders insights

from

:
Amy Mortlock, EMEA Marketing Director,

NetSPI

Claire Macland, Senior VP Global Marketing,

Equinix

David Keene, CMO,

Wipro

Helen Trim, SVP Marketing EMEA & APAC,

Coupa Software

Marie Thornton, Head of International Marketing,

BlueJeans by Verizon

Mitali Isrsani, Marketing Director,

Medallia

Maya Price, Marketing Director,

SAP UKI

Sakina Najmi, VP Marketing,

Tractable

Sumi Shukla, VP Marketing,

Riverbed

Suzi Williams, NED,

JD Sports Fashion plc

Wayne Ellis, Marketing Director,

HotTopics




Key takeaways to navigating the
post-pandemic event marketing

world
Discover how event marketing is evolving in response to changing attendee habits and preferences.
Learn how to strike the perfect balance between in-person, hybrid, and virtual events in your annual calendar to cater to diverse audience needs.
Uncover the essential strategies that every B2B marketer should incorporate into their post-pandemic event marketing arsenal to ensure success.
Download the white-paper and gain access to these
invaluable insights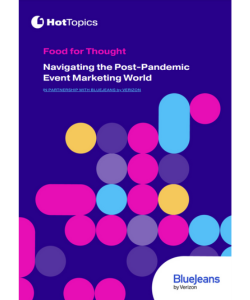 ---
This Food for Thought C-suite lunch series was in partnership with

BlueJeans by Verizon
Join the community
To join the HotTopics Community and gain access to our exclusive content, events and networking opportunities simply fill in the form below.